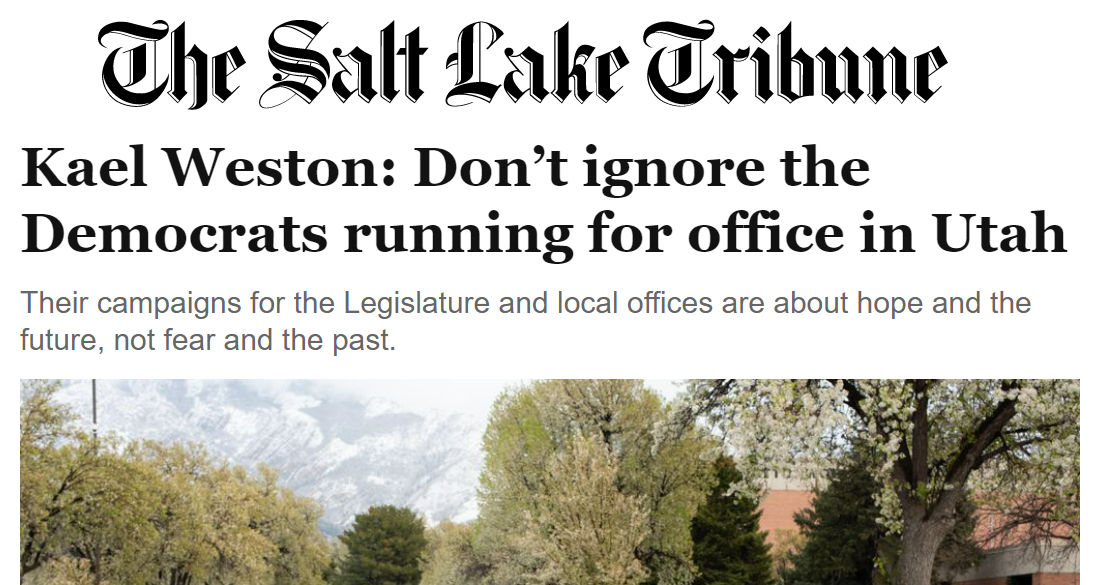 15 Jun

Don't Ignore the Democrats

Kael Weston highlights state and local candidates an OpEd in the Salt Lake Tribune.
"Campaigns at their best are about the future. Hope. Not fear. Unity. Not division. A 'Utah Way' that works for all Utahns. Here in our Beehive State democracy is failing."
Unfortunately, that hope and unity is not what we see in Utah right now. Those who argue that "Democrats can't win" create their own reality. It is true that Democrats can't win—when they don't run. We don't need to accept that demoralizing opinion.
"Around 40% of political races in Utah are uncontested this year. And where the overwhelmingly Republican incumbents are challenged, some continue to argue that 'Democrats can't win.' This is both demoralizing to candidates, new ones especially, but also counter to building a healthier political marketplace in our fast-growing state. . . . All of us should welcome deeper and varied political discussion, done respectfully."
Many dedicated, qualified Democrats are running for office this year at every level. As a voter, Kael takes his choices seriously. And he walks his talk.
"I will be knocking on many doors in the weeks ahead. Find a candidate you believe in and join the effort. We can get better leaders but only if we work hard at it, all the way through Election Day."
See Kael Weston's frequent updates on down-ballot candidates on Twitter.