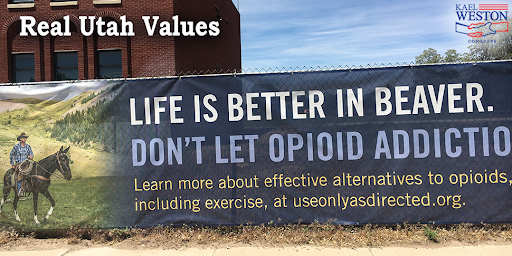 23 Jul

Issues over Values

Issues over Values: Stewart, Mental Health, & the Suicide Hotline

Despite his focus on establishing a nationwide three-digit suicide hotline, Chris Stewart has voted AGAINST funding for mental health services dozens of times. His record in Washington is clear: Stewart has repeatedly worked to "defund" and greatly undermine the Affordable Care Act (ACA). This landmark Democratic legislation has done more to help address millions of Americans' mental health than any prior law. Mental and behavioral health concerns will not be solved by a hotline. Addiction, suicide, and overdoses will not be prevented solely by data collection.

The National Suicide Hotline Designation Act, H.R. 4194, and Suicide Prevention Act, H.R. 5619, are bipartisan bills co-sponsored by Stewart and passed out of committee on July 15. They are overdue, though limited, additions to our national suicide response. A three-digit number to call for emergency intervention is a welcome improvement to the 10 digit number currently in use. Though implementation is two years away, it is a step in the right direction. Likewise, the improved CDC collection efforts authorized by the Suicide Prevention Act will allow valuable data to be collected from state and local health agencies regarding suicide attempts and incidents of self harm. 
Stewart's Longtime Attacks on the ACA 
However, and this is crucial for CD2 voters to understand: Chris Stewart's focus on suicide prevention is undercut by his repeated attempts to strip Utah constituents — and all Americans — of the critical mental health benefits included in the ACA. In addition to important provisions for reducing healthcare costs for millions of Americans, the ACA classified mental health services as essential health benefits, providing:
"one of the largest expansions of mental health and substance use disorder coverage. The law requires that most individual and small employer health insurance plans, including all plans offered through the Health Insurance Marketplace cover mental health and substance use disorder services. Also required are rehabilitative and habilitative services that can help support people with behavioral health challenges."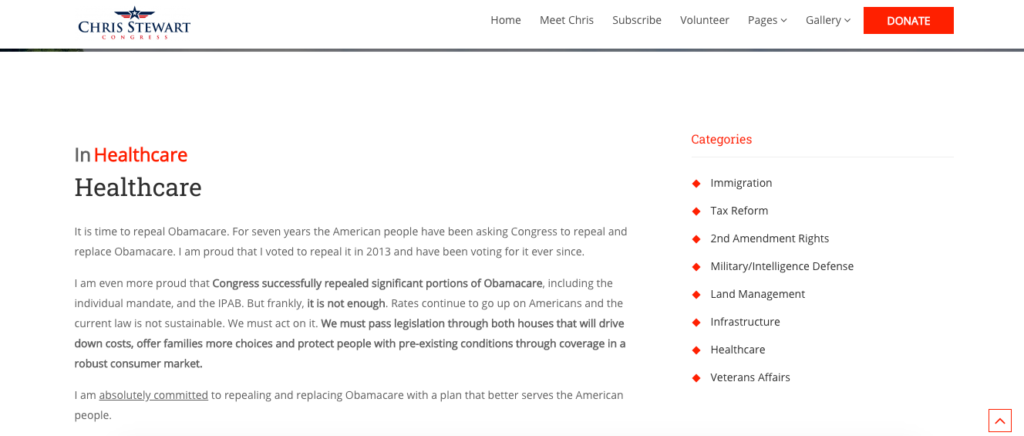 The ACA's Crucial Protections for Americans' Mental Health
The ACA expanded access to addiction treatment, included mental and behavioral health as one of ten essential health benefits which insurance plans must cover, and removed the pre-existing condition barrier for those with mental health histories which would previously have trapped them in sub-par plans or left them uninsured altogether. Moreover, the ACA ensures unprecedented and vitally important parity protections that require insurance companies to treat mental health as seriously as they do physical health.
Chris Stewart has treated the ACA as an ideologically-driven political game and has consistently fought to take away from Utahns and Americans the mental health care protections the ACA established. 
Utah's Troubling Statistics
Suicide and drug overdoses claim the lives of over 1,000 Utahns every year according to Utah government health statistics. In 2018, Utah ranked 5th nationwide in suicide mortality. Utah has consistently ranked in the top 10 in the nation for overdose deaths for the past 10 years, with Carbon, Emery, Duchesne, Juab, Weber, Salt Lake, and Tooele counties suffering the highest numbers. Despite these dire statistics (and the overwhelming popularity of expanding Medicaid in Utah as evidenced by the passage of Prop 3), Chris Stewart voted to repeal, defund, or delay the ACA numerous times since it's passage in 2010. Even more troubling, he and the Republicans in Congress did so without having an equivalent or improved replacement plan in place.
Stewart in His Own Words
I've voted to repeal Obamacare dozens of times," he said in a Jan 6, 2016 press release, and since then he's added many more repeal votes to his record, including one less than a month ago. "The House has voted 40 times to repeal, defund or dismantle the law. I voted for a full repeal of Obamacare on May 16, 2013." Stewart brags on his site (the "Obamacare" section does not seem to have been updated post-2013.) The "How do we fix our Healthcare System?" section of his site makes no mention of mental or behavioral health.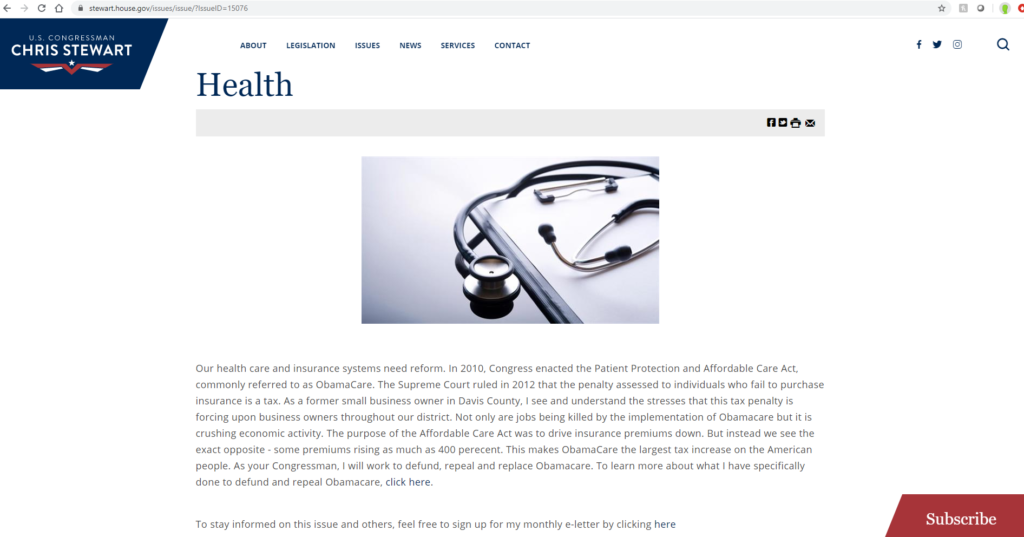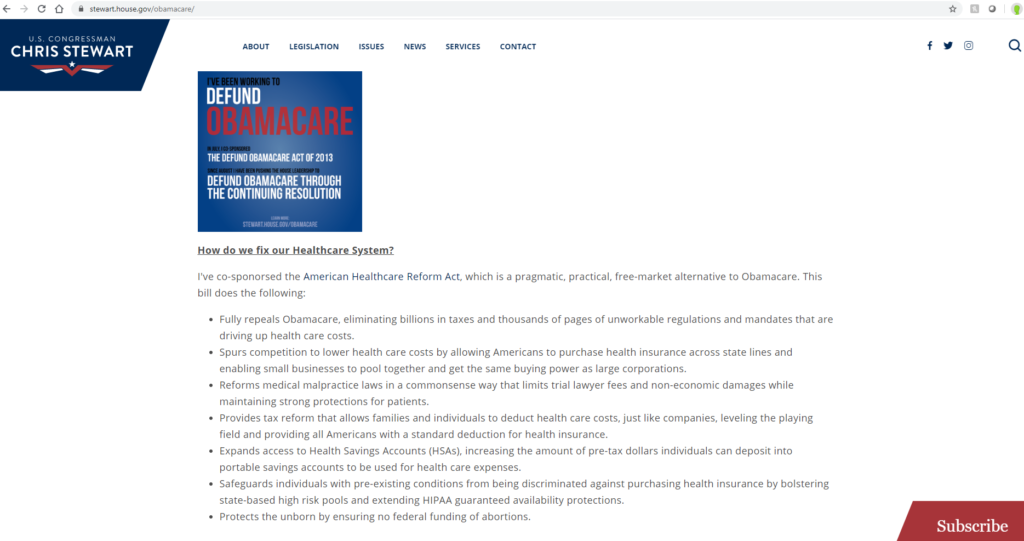 On May 16, 2019 Stewart voted against the bipartisan "Lower Drug Costs Now Act of 2019." This legislation would have provided $1.5 billion in annual funding for the Substance Abuse and Mental Health Services Administration, which is the parent organization for the National Suicide Prevention Lifeline. (It would also have allowed the department of Health and Human Services to negotiate maximum prices for necessary drugs like insulin to reduce the cost of healthcare and health insurance.) 
Stewart's ACA Votes Hurt Utah Families
Protecting Utahns means providing services for those struggling with addiction and mental health issues. According to the CDC, over 300,000 Utahns were without insurance in 2017, and according to a recent study 53% of Utahns have difficulty paying for out-of-pocket medical expenses while 47% say they could not afford the medications they were prescribed. Mental health services and curbing health care costs are key issues for Utahns. Chris Stewart has not used his positions on the Budget and Appropriations committees to fund mental health services and health cost reductions. Instead he votes against Utahns' interests and sides with a Republican Party that has long been working against urgent health care matters for all Americans. 
According to 538, Stewart has voted with Trump on over 95.9% of the bills that have come through the house since 2016. 
Election Year Stewart Hides His Record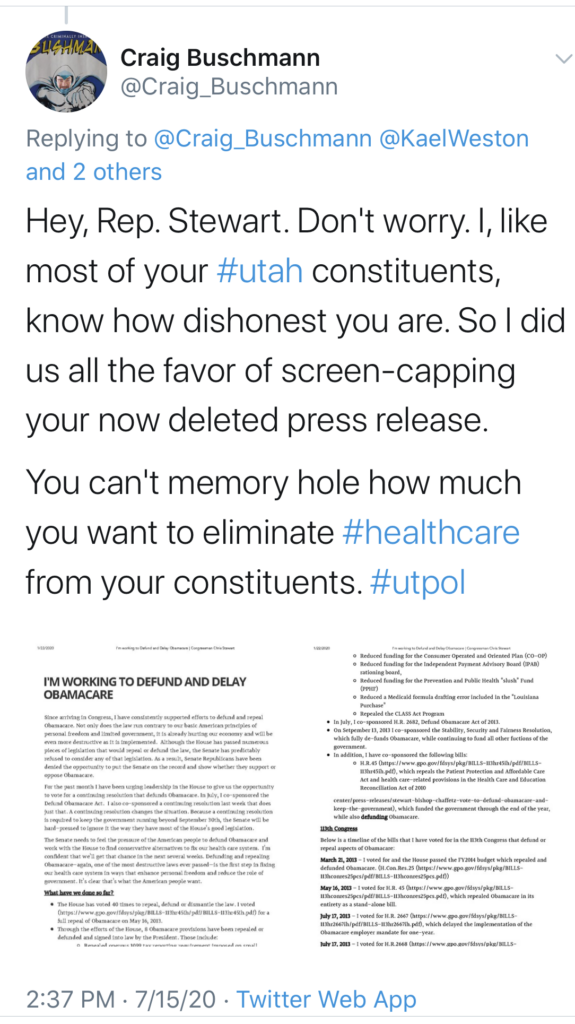 It is worth repeating: Chris Stewart's opposition to the Affordable Care Act is well-documented. "Election Year Stewart" has tried to scrub from his website prior press releases in which he touted his efforts to "defund" the Affordable Care Act despite having no plan to replace it. We need a representative that puts the health of Utahns first. Stewart's record speaks for itself: he has tried to take away mental health coverage and has voted against extending mental and behavioral health benefits.
Chris Stewart's priorities do not align with Utah values. 
Kael's Notes from the Trail
In my travels throughout CD2, some of the most moving conversations involve mental health matters with families who have lost loved ones to suicide.
One supporter in Sevier County, who identified himself as a Republican, recounted his wife's battle with serious depression. He said their family had limited options in rural Utah, with emergency psychiatric services only available if a helicopter flight to a facility in northern Utah could be approved. 
In another conversation in Tooele County, a teacher and candidate for local office discussed how the death of a popular high school student had shaken the tight-knit community. 
During long drives between small towns, I have noticed some dusty and isolated communities placing signs in front yards that read "Don't Give Up" — messages that appear to be tied to mental health challenges.
A supporter in Sanpete County wrote to me that "mental health care is a serious problem here." She talked of a nephew who needed therapy but the local facility only accepted Medicaid patients, which did not apply to him. His dad had insurance but a very high deductible — "so he fell into the gap and ended up doing self-pay for a while, which was really expensive" and not sustainable. Regarding youth suicide, she added, "We've had some really bad times."
No suicide, whether in a rural or urban community, is ever really a statistic for the families who mourn. Chris Stewart's attack on the ACA is unconscionable — a law written to help save lives. No 3-digit hotline, while welcome, can take away that red stain from his voting record.
Thank you for your time and support, which is critical as we approach only three months to Election Day. Please stay in touch. Please share your own stories. I'm looking forward to hearing from you.
Kael Weston & Team
kael@westonforcongress.com