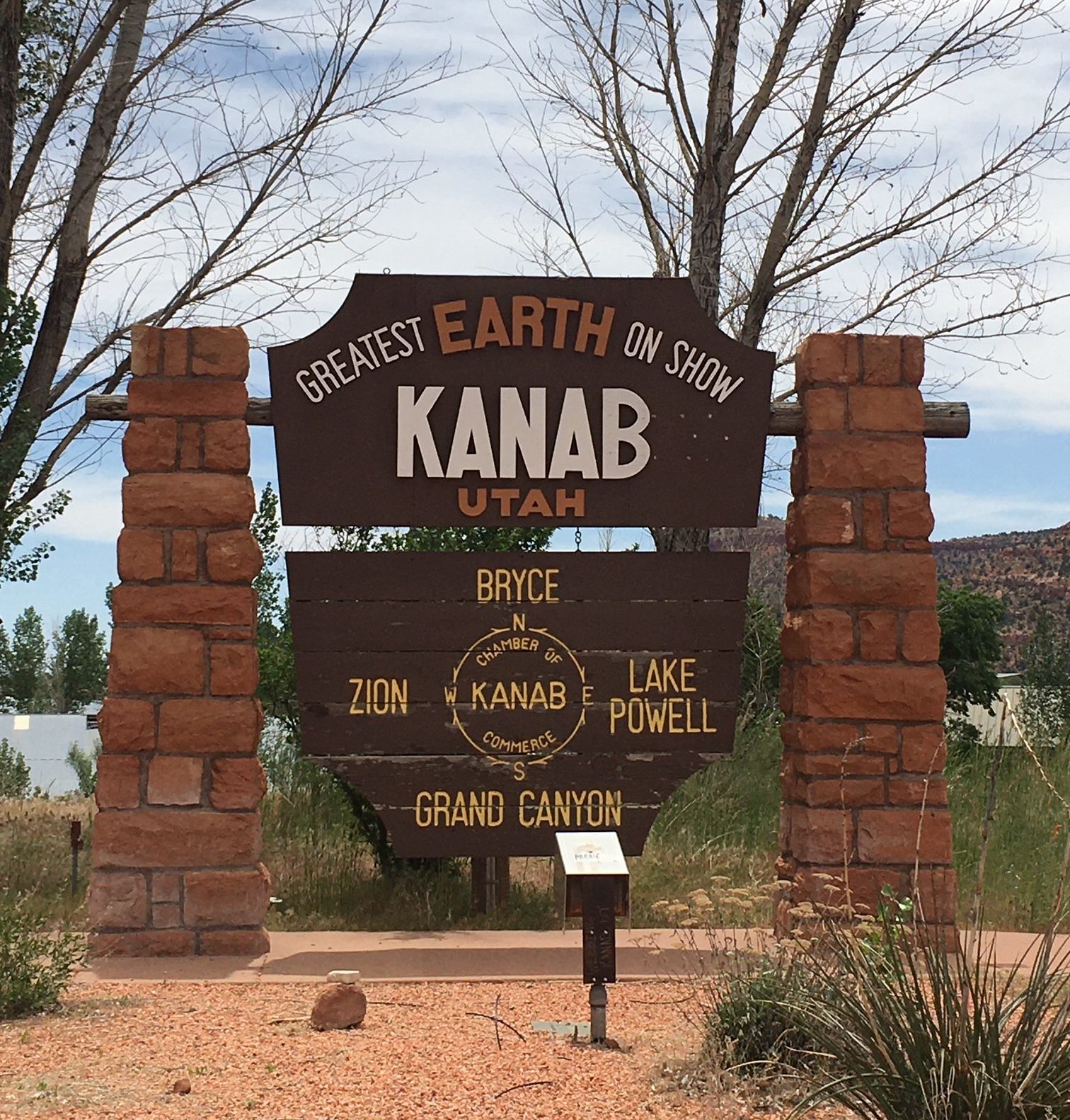 23 May

Kael's Trail: Animal Rescue & Shooting Ranges
Kael, a writer and historian at heart, will be posting travelogues of his visits to every corner of CD2, with photos, commentary, and a bit of history. Deep roots and a way with words mean we get to travel along as he and Tai (campaign Tech Director) traverse the district over the next weeks and months.
We hope you'll follow along from wherever you call home.
The political dynamic of Utah's 2nd Congressional District has many layers, like Utah's banded geology. Kane County and the county seat, Kanab, are situated at CD2's southernmost edge along the Utah-Arizona border. This remote region is home to ranchers and animal rights activists, environmentalists and would-be water barons. Families who have been around for a long time, and those who just arrived.
It is, in a word, complicated.
Animal rescue & shooting ranges—bridging the divide
As the Democratic candidate seeking votes in Kane, a recent visit highlighted the obvious challenges in bridge-building but also the real opportunities. I would not have CD2's district boundaries be drawn (or redrawn) any other way, even if a future redistricting committee were run by … Democrats.
Along the town of Kanab's Main Street during a mid-May visit, empty motels reflected the significant economic impact of COVID-19. Outdoor-oriented stores had also taken a hit. While I did not see any tumbleweeds rolling down Main Street, it sure felt as if they soon would be. The only businesses that seemed to be gaining more customers were drive-thru ready fast food outlets.
One motel owner said that international tourism was down completely—and that reservations were "only looking up next fall." I could see the worry on this proprietor's face. Not far from her motel's front doors was a reminder of the golden era of Kanab-area movie making, the town's boom time, when it was called "Little Hollywood." Films and TV series—such as Stagecoach, The Lone Ranger, Gunsmoke, and The Outlaw Josey Wales—all filmed in the area.
Best friends …
The biggest economic anchor in Kane County is Best Friends Animal Society. Their motto is direct: "Save Them All." Founded in 1993, the nonprofit operates on tens of thousands of acres of rolling red rock and sagebrush near Kanab. The well-funded group has rescued countless animals housed in areas called Dogtown Heights, Cat World, Horse Haven, Marshall's Piggy Paradise, Bunny House, Parrot Garden, and Wild Friends. With over 800 employees, the non-profit is the largest employer in the county and attracts ten times as many volunteers.
Best Friends also serves as a magnet for more liberal-minded transplants to Kane County, who find themselves living next to Utahns of pioneer stock who occasionally try to pull genealogical rank based on Mormon pedigree and handcart or wagon trail chronology. "Well, my ancestors arrived in 1850 …" kind of talk, "What about yours?"
My own poor Danish immigrant ancestors arrived in Southern Utah around then, the mid-19th century. I remind my old and new rural Utah friends that it should not matter when someone's family arrived in the Beehive State—a century ago or a week ago—because we are all Utahns.
That is a point I will repeat all the way through Election Day and all along the winding 14-county campaign trail.
Of note: Best Friends recently paid millions to protect land near its boundaries, funds that will be used to help Utah schools. Instead of supporting the effort, county officials protested—too much. That is one topic, among others, I plan to take up with them on my next visit to Kanab.
And shooting ranges …
Just across Highway 89 from Best Friends is a symbol of the other side of Kane County: a shooting range separated by several manicured berms of piled red sand. Guns, of course, are a big deal in rural Utah, and I often get asked my position on "gun control."
Some context: as a kid, I grew up shooting my dad's .22 and my grandpa's pistol. I spent my youth hunting deer in the Mineral Mountains, just outside Milford. High-altitude "deer camp" was an annual ritual in the Weston family.
… But then, many years later, I went to war.
Seven consecutive years, 2003-2010, in Iraq and Afghanistan with the U.S. State Department taught me what it feels like to be shot at—and, as I wrote in my book (p. 398), educated me about the ultimate red cost of bullets.
"I realized it had been over two decades since I had been on a deer hunt with my dad and brothers, well before the wars. I doubted I would ever go again. I had seen enough blood too. Iraqi, Afghan, American. I did not want to see one more living thing die too soon."
When asked my position on guns, I say that training and education—what the shooting range represents—is an essential starting point for conversation but far from the most important point. I then usually add: a majority of our country, and clearly a vast majority of our country's parents, want better laws to prevent more gun violence.
As someone seeking to represent 700,000+ future constituents in Utah—whose state gun (the first to be declared in the country) is the century-old Browning model M1911 automatic pistol—I believe that lawmakers should reflect that consensus. Red-flag laws, background checks, and more legislation will be required. We must also remind the NRA that the public good, not profiteering or political posturing, should drive public policy.
On our way out of town, Tai, our campaign tech director and a former Marine rifleman—who was in close combat right next to another Marine friend of mine, Sgt. Bill Cahir, killed-in-action in Afghanistan on August 13, 2009—said he was impressed with the quality of Kanab's shooting range. "It is clear gun owners here take safety seriously."
Utah's other (better?) state symbols include the sugar beet, Spanish sweet onion, the Dutch oven, the elk, and the cutthroat trout—not to mention the state flower: the Sego Lily.
Better neighbors in divided times
Kanab is representative of a small place in a big country that could show us a way forward in these divided times of Red vs. Blue and Blue vs. Red. The politics of fear and anger instigated from the White House and supported by short-sighted sycophants like CD2 incumbent Chris Stewart.
Kane County (named after Colonel Thomas L. Kane, an abolitionist non-Mormon friend of the early Mormon settlers) could instead become a place where the area's animal rights activists and those who spend weekends at the shooting range find more common ground: on health care, land stewardship, and, in our new COVID-era, a consensus that wearing masks is good common sense and for the safety of all neighbors. Not to mention good for business, too.
As a candidate for congress who was able to get former Taliban fighters to drop their AK-47s and no longer shoot at U.S. troops in eastern Afghanistan, I believe I am up to the task. Kane County and rural stretches beyond will be seeing a lot more of this particular war-tested candidate with diplomatic instincts and our talented campaign team, which includes combat veterans, between now and November 3rd.
Colonel Kane, a good soldier and an eastener, was also a good diplomat when Utah needed one.
Through these CD2 Voices and Vistas stories, our traveling campaign team will also highlight how rural folks in Southern Utah, like those in my own family line, have voted Democratic before—and can again.
Thank you for your time and support.
Kael Weston
kael@westonforcongress.com