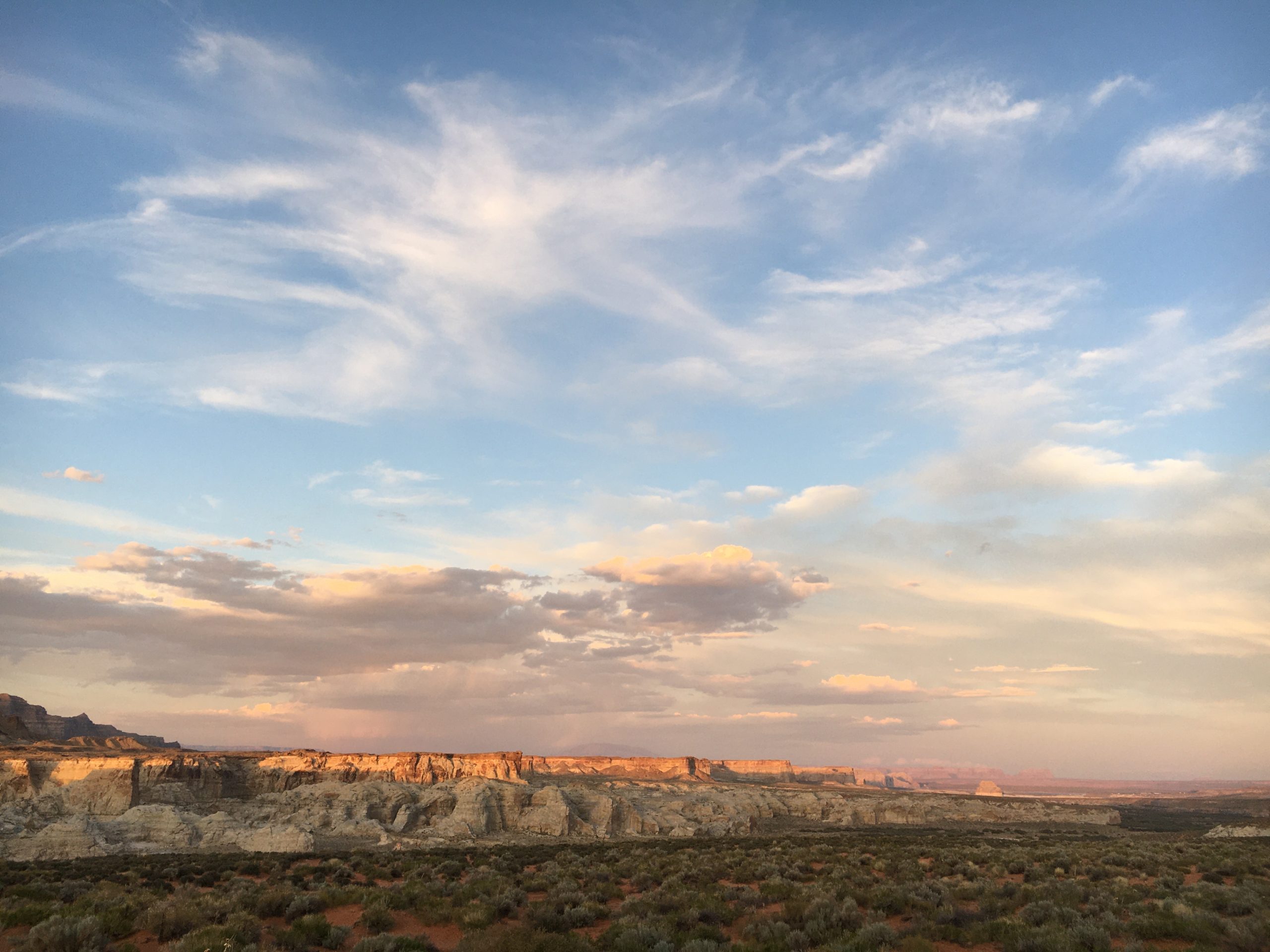 26 May

Kael's Trail: Call 911, then what?
Kael, a writer and historian at heart, will be posting travelogues of his visits to every corner of CD2, with photos, commentary, and a bit of history. Deep roots and a way with words mean we get to travel along as he and Tai (campaign Tech Director) traverse the district over the next weeks and months.
We hope you'll follow along from wherever you call home.
Not far from boating-mecca Lake Powell, the vast blue gem of shrinking water to the southeast of town, Big Water, Utah (pop. 475), has an overriding challenge that needs urgent attention. When residents experience medical emergencies, the small and largely volunteer team of medical and fire protection personnel do what they can—sometimes, though, it is not enough.
One local told me during a recent visit that there is always the question after dialing three digits, 9-1-1: "Is anyone coming?" When the area's spread out first responders do come, it is unclear how long will it take.
The current town budget for emergency services is about $150,000. An increase of $100K would make a big difference, residents say. The math is straightforward. A reliable income of $16/hour for EMTs and $18/hour for paramedics goes a long way in rural Utah. The cowboy-hatted town Marshal, who is also a cattle rancher, leads a law enforcement team of … one.
How long will it take Kane County commissioners and state-level elected leaders to listen and do more for Big Water and so many rural towns like it across CD2?
I will be raising the matter with them.
Amangiri neighbors
During our campaign's mid-May visit to Big Water, we held an informal town hall (masks on) at the fire station. Questions focused on:
the needs of neighboring Native American communities on reservations to beat back COVID-19;
the human costs of a failed U.S. health care system and sparse rural healthcare options, including for mental health;
water resource dependency among ranchers alongside water conservation goals for a tourist-dependent area; and
the not-always-easy relationship with the nearby luxury Amangiri Resort—where Ivanka and Jared, Justin Bieber, and Beyonce, it is rumored, have stayed.
Q&A meeting with Big Water residents at town fire station. Photo by Kael Weston
Town residents said they often see BMWs and blacked-out SUVs ferrying resort guests at a fast clip to-and-from the adjacent airport in Page, Arizona, where private jets are parked. The exclusive retreat, a concrete compound set amid sandstone, pays very well for its own emergency services contract—VIP coverage for those who can afford to stay in rooms that cost $1000s per night. Meanwhile, many people living full time in the southernmost edge of the Beehive state struggle to pay for prescriptions and unexpected hospital bills and cannot afford health insurance.
Promises made—and kept, rain or shine
"I always keep the promises I make, which is why I don't make very many" is a line I often use—and mean—as a person, not just as a candidate.
But when the town Marshal (reportedly a Republican) said: "I'll vote for you if you bring rain" … I could only reply that I would do what I could, but no promises. He chuckled.
Another town member, a proud Democrat, said that "Republicans in Kane County are like chickens voting for Colonel Sanders." He explained that their interests on health care and Social Security protection are what Democrats, not Republicans, have been fighting for over many decades.
It was a good line and argument. I said I would use it on the campaign trail but give him credit. He also chuckled. I promised that we would be back in Big Water—and our campaign team and I will be, this June.
Unlike incumbent Chris Stewart, I keep the promises that I make. And I show up in remote parts of the district to listen to and learn from the people I am seeking to represent. Politicking in rural Utah is not about setting cruise control, but rather downshifting my old truck's gears on a frequent basis, and wearing out a lot of tire tread.
More from the CD2 Trail
Watch out for next messages from our CD2 campaign trail in coming days. We will cover rifle ranges and animal protection, National Parks and camping, small-town post offices under threat, and even the surprising kind of radio ads that are played in rural counties during The Glenn Beck Radio Program.
Through these CD2 Voices and Vistas stories, our traveling campaign team will also highlight how rural folks in Southern Utah, like those in my own family line, have voted Democratic before—and can again.
Thank you for your time and support.
Kael Weston
kael@westonforcongress.com