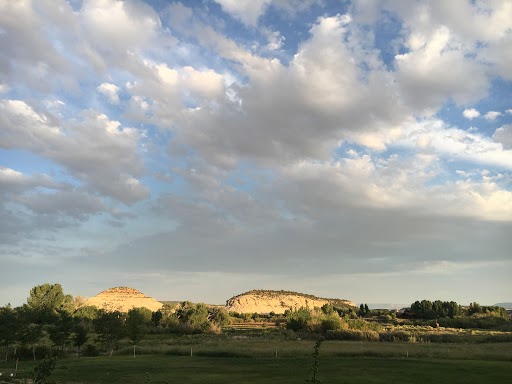 24 Jun

Kael's Trail: Republicans, Alfalfa, & Juneteenth
Kael, a writer and historian at heart, will be posting travelogues of his visits to every corner of CD2, with photos, commentary, and a bit of history. Deep roots and a way with words mean we get to travel along as he and Tai (campaign Tech Director) traverse the district over the next weeks and months.
We hope you'll follow along from wherever you call home.
Our traveling campaign team and I visited half a dozen rural counties across Southern Utah last week. We covered a lot of terrain. We covered a lot of issues. We listened and learned a lot – including to and from Republicans and unaffiliated voters alongside many committed and motivated Democrats. (More of all their voices will follow in a separate message.)
In Beaver County, where my family's roots run deep – my uncle was a Democratic county commissioner for three decades after returning to rural Utah after two tours in Vietnam, where he almost died – I participated in a Beaver County Commission meeting. The Republican commissioners, including two longtime Trump supporters, asked me about public lands and tax revenue. They are concerned about current legislation (Senate Bill 3422) that would put at risk county revenue generated from private land, which they said amounted to 13% of the county's total acreage. While acknowledging their legitimate budget concerns, I said I did not believe any state flag should be placed above the U.S. flag when it comes to national resources and land protection. During our back-and-forth, I had in my mind the plaque on the large stone arch at Yellowstone's north entrance, which reads: "For the Benefit and Enjoyment of the People."
I also brought up Downwinders, an issue that Utah's own Mary Dickson has long been an advocate for, speaking up and writing about. Dickson's play – "Exposed" – is worth reading. I reminded these elected Republican county politicians that only Democrat Ben McAdams of Utah's congressional delegation is supporting a bill that would expand RECA (Radiation Exposure Compensation Act) and provide medical benefits to radiation survivors.
My implied message: we would return to the issue, which was the right thing to do – and smart politics reflecting common ground in rural Utah. I mentioned my own dad's cancer, which very well might have been caused by nuclear tests.
After I spoke, a Utah Division of Natural Resources officer discussed how to manage areas that were like "Little Las Vegas" these days, with littering and over-use. He also discussed with commissioners how best to handle "predator control" – coyotes and cougars reportedly hitting sheep and deer herds hard in nearby mountains, in addition to eagles "which are tough on the lambs" explained the bearded DNR sergeant.
COVID and its effects on health and the local economy was not raised until I brought up the topic over a long lunch of Mexican food. Though one commissioner let slip that COVID "had landed" as we conversed over our enchiladas.
Of note: two Beaver County commissioners said they had voted for my uncle, who had long stressed the importance of Utah not having only one party in charge. One of them said she "never voted a straight ticket." We agreed that zig-zagging across Utah ballots would be good for both parties, and that all of us owed retired state legislator, Rep. Patrice Arent, thanks for getting a bill passed this year that eliminated straight-ticket voting in the state.
While our interaction in Beaver County was blunt and guarded at times, starting this kind of dialogue is what I am committed to – living our campaign logo (hands gripping crossed forearms): reaching out to Republicans across CD2, and making clear that I do not consider (R) to mean "robot" … which the Utah Republican Party seems to believe.
Later in the day, I joined my relative, Bret, as he prepared his alfalfa field for hay baling. We talked about how COVID had affected dairy farmers' ability to buy his and other farmers' alfalfa.
Better Neighbors?
In Richfield, we met several more Republicans, who engaged with other locals from Sevier County about Black Lives Matter and police reform protests, and discussed rural mental health challenges and youth suicides. One resident, who owns a dance company, said U.S.-China trade disruptions had led her to source student leotards from U.S. suppliers: "It cost parents 10 more bucks, but they didn't seem to mind." Another theme apparent in Sevier and other parts of rural Utah is how Democrats who own small businesses in various communities said they fear economic reprisals if they show their party identification.
An era of "better neighbors" in Utah cannot come soon enough. It will be a hell of a lot better for all businesses.
In Torrey and Boulder, the effects of COVID on tourism were evident (the virus spiking in Utah as we drove almost 900 miles across six days), even as scenic roadways were more crowded with Winnebago caravans and big trucks with ATVs in tow. Few foreign tourists were present. At one restaurant, diners were asked to sign-in and leave contact information – an attempt by county health officials, it seemed, to trace visitors should a COVID outbreak be tied to the eating establishment. In recent days, Utah has had among the highest number of new infection rates nationwide. I noticed at truck stops and gas stations it was mostly the elderly who had masks on – but few others, apart from this particular candidate for Congress.
Green Hatfields vs. Red McCoys …
In Escalante we met with the mayor (salary: $150/month) and environmental activists, while also participating in a large (given the town's size) Juneteenth march … all the while a few loud 4×4 trucks, with many-inch lifts, circled us with large "Trump 2020" flags prominently displayed. The scene struck me this way: 'Green' Hatfields still battling 'Red' McCoys. One supporter said that even longtime Grand Staircase Escalante Monument, Park Service, and Forest Service employees had been surprised by how quickly the Trump Administration had dismantled their agencies. "Low morale" the theme – and only one true scientist left on staff.
We also met the local newspaper owner (The Insider, covering Wayne and Garfield Counties, with 3,580 total circulation) who described her mission as "Digging deep into the cross-section of culture and land." If printed county legal notices are done away with (as some Republican state legislators are attempting to do – and made available online only), the paper would close. Around 20% of the paper's budget comes from alerting county residents what their government … is up to … with their money. To his credit, the editor said Mitt Romney sat for an interview during his Senate run. Chris Stewart, I was told, had once conducted a "listening hike" to nearby Calf Creek Falls – but mostly with pre-selected Republican county officials.
Guns & Utility Bills
In a May visit to Manti – after hearing Rush Limbaugh declare on his radio program that red-staters "had more guns" than liberal coastal elites – we stopped at a local Pawn Shop, which had shelves filled with guns more than anything else. The talkative and friendly worker behind the counter said some buyers had come from northern Utah since COVID had appeared, but that locals had plenty of firearms. She said pistols sold most often and that background checks for Class III items (such as suppressors) varied: "One of our buyers, a miner, got his approved in three months. Another, a law enforcement officer, it took 13 months." Prominently displayed on the shop's counter were fliers from a law firm with a specialty: "NFA [National Firearms Act] Gun Trusts: Help and Protect your Family and Friends from the 'Accidental Felony.' Own, Share, & Transfer NFA Firearms Responsibly."
In Kanab, as a large fire approached the Utah state line (from Arizona), a local restaurant owner said visitation was up from Southern California and Northern Utah and the region, but not internationally. He added that the area's real estate market amid scenic red rock was rebounding (urbanites – Vegas, Salt Lake, Phoenix – reconsidering urban life due to COVID). A Big Water town council member said he had been monitoring monthly utility payments in Kane County: they were down, and he suspected many customers were braving more heat by keeping the A/C off these days. The local leader predicted that bankruptcies in the area would soon jump.
What's Next: CD2 Urban Living and SLC-area Issues
In the next few weeks, our team will be reaching out to urban northern Utah residents, asking which issues are important to them. We also plan to approach U.S. military officials in Dugway and request a meeting. We have already reached out to LDS Church headquarters as well, with the intent to start a conversation (the LDS Church Office Building, a skyscraper, is located in Salt Lake City which falls in CD2).
Thank you for journeying with us as we continue to listen closely to CD2 residents in order to understand the complex district and its diverse residents.
To truly "represent" the people, I believe one must earn that title – not presume it and not take it for granted.
Mr. Chris Stewart does that.
Please stay in touch. Our diverse team (including around 100 volunteers and growing) want to hear from you. We are, after all, running this campaign to represent you. Ask us the hard questions. Tell us what we are missing. Suggest ways to reach out to more CD2 residents and voters.
And donate if you can, in any amount, which helps a lot.
Thanks,
Kael & Team
kael@westonforcongress.com