10 Dec

Let's keep the conversations going, neighbor to neighbor

Dear Friends and Supporters,

Hello again. It has been over a month since Election Day. Hard to believe … and only a few weeks until a very welcome New Year.

Hope you and your families have been able to focus on matters other than politics (or mostly) during this period. While COVID-19 continues to infect many in Utah, our country, and around the globe, we at least know that in 2021 our White House will have a new family moving in.

In the new year we get another bonus for our bodies and psyches: U.S. public health professionals who will be empowered to do their jobs based on science and facts.

An Election Day recap locally: my Republican opponent in Utah's 2nd Congressional District was reelected with 59% of the vote.

Our entire team and amazing group of volunteers – thank you, all, again – worked hard this campaign, very hard, from beginning to end. Without each, this joint effort would have stalled out early on.

The same can be said for other Democratic candidates on the November 3rd ballot who put their names forward to give voters a choice and help make Utah a more balanced two-party state, as it once was. These courageous and committed Utahns ran hard. They sought county commission seats and elected positions in the state legislature, as well as in Utah's three other congressional districts. Some made the case statewide, across all counties. I was honored to meet many of these candidates and believe we will be seeing more of them in the years ahead.

Our final vote total was almost 37%. The Libertarian candidate received 4%. Over 84,000 more votes were cast in 2020 throughout the district compared to 2018. Biden-Harris received almost 38% in Utah to Trump's 58%, showing the Beehive State to be, while still red, noticeably less all-out red than other parts of the country.

In our race, which comprised about half of Utah geographically, we maintained a fast pace in a vast district – all those post office stops, outdoor public park gatherings, drone footage vistas of red rock, asphalt, and Pando Aspens. After a year, I sure have the truck tire tread wear to prove it. Another highlight: our in-depth policy lunches via Zoom and joint voter outreach sessions with Shireen Ghorbani, Ben McAdams, Evan McMullin, and a couple of Libertarian podcasters based in Tooele.

When all the votes were tallied (Utah proved again to have a successful and well-tested mail-in ballot process), the results mirrored the deep divide in our country. Salt Lake was blue, every other county (of the 14) was red, very red – save for Davis County which had a lighter shade of crimson in 2020. Running to and in the hard areas – yes, across rural Utah – was a strategy, very much candidate-driven, from the outset in a very gerrymandered district.

This plan did not translate into as many votes as hoped. In the high-growth retiree enclave of Washington County in southernmost Utah, I got stomped. But we initiated hard conversations there and in the isolated places in between where rural residents said they did not expect a Democratic candidate from Salt Lake to show up, often more than a few times. I will long remember how, on July 4th, we Democrats marched with our masks on in St. George, at a time when too many were saying the worst days of the virus were behind us.

Many of you have asked me informally: "what's next?"

More shared work ahead, for sure. The ways in which we can help advance important issues – such as expanded and affordable health care, public land protection, relief to working families, among other policies – remain worthy goals demanding more energy and action from us all.

I do not intend to hang up my muddied cleats just yet or push away my well-used keyboard. I am looking forward to more time to run the Bonneville Shoreline Trail, seek out some new Dinosaur tracks, write and teach, and reconnect with family. Unfortunately, my dad's cancer is back – news we only recently received from his doctors.

In the meantime, in this holiday season, I wanted to include an Iron County voter's message that stayed with me throughout the campaign. You might recall it. The note is a reminder of the common good, the public good, and how critical it is to get a government that addresses the needs of the most vulnerable among us.
Our politics in 2021 and the years that follow must not be allowed to continue to fail our people, fail our neighbors. Each of us has a role to ensure less dysfunction. To find more solutions. To listen to each other while also standing up for important principles and ethics.
In that spirit, here's a photo of the t-shirt I wore on election night, a gift from a Republican friend.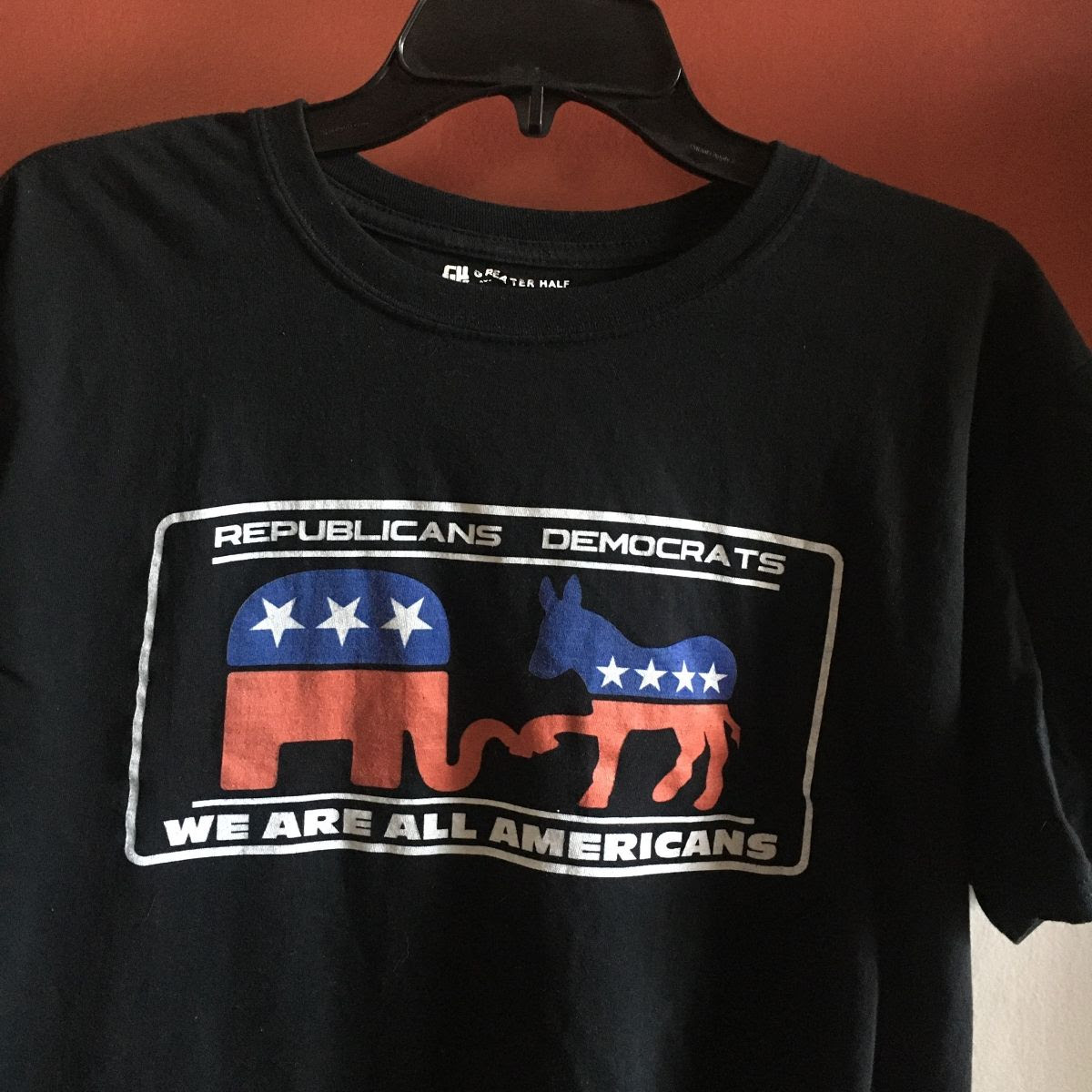 When I made my concession phone call at about 10:30pm election night, I called my opponent, "Representative Stewart" not "Mr. Stewart" for the first time. He had won. I respected the will of the voters. I also encouraged him to keep in mind all the families fearful about losing their healthcare, particularly during a pandemic, and the importance of bringing our country together.
Please stay in touch. I plan to keep sending out messages in the months ahead that are worth your time. Working together, I believe we can get good things done, necessary and overdue, for our communities.
Let's also be hopeful that the new tone courtesy of a new occupant in the Oval Office will begin to move us in that direction. Locally, nationally, internationally.
After all, our conversations …
Utahn to Utahn, no matter ZIP code or political party affiliation …
American to American, in all our diversity, and despite digital divides and distractions …
Between more economically stable areas and distressed rural counties …
… must go on.
I used to emphasize on the campaign trail that talking with the Taliban and Fallujah insurgents, my former job in the U.S. State Department in two warzones, was hard. U.S. troops' lives were at risk, and my own, as were those of Iraqi and Afghan civilians.
The conversations we started in this campaign together, from Big Water to Bountiful, Richfield to the Avenues, Callao to Torrey, Panguitch to West Valley, are no less important.
Let's commit to keeping the conversations going, neighbor to neighbor – the most important title of all in these challenging days.
Kael
kael@westonforcongress.com