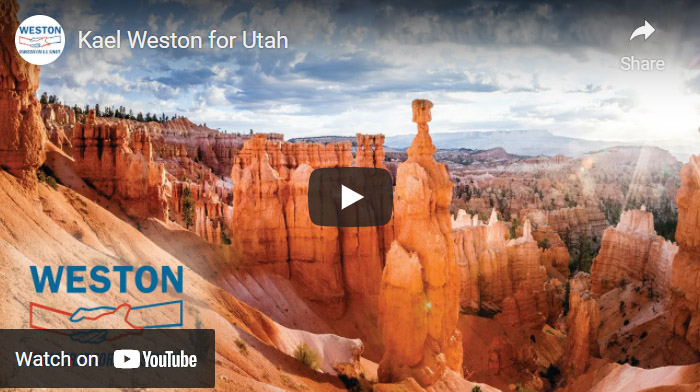 27 Jan

VIDEO: I'm running for U.S. Senate

Hi, I'm Kael Weston, and I'm running for U.S. Senate from the state of Utah.

I served our country as a diplomat with the U.S. State Department for over a decade, including seven years in Iraq and Afghanistan as Political Adviser to Marine commanding generals. Living in a war zone, getting shot at was a lot more common than was comfortable, especially because I carried a notebook not a gun.

There is no greater honor or challenge than representing the United States of America, especially in two war zones.
"Weston stands alone in the annals of modern American diplomacy." – Rajiv Chandrasekaran in Newsweek
Over three years in Fallujah, Iraq, my job was to help rebuild the city and ensure that Iraqis could return home to a functioning government, to secure nation-wide elections, and to protect the people's right to vote.
"Few Americans have served their country with greater courage, commitment and lucidity than Kael Weston." – Roger Cohen of the New York Times
When I relocated to Afghanistan's Khost Province, I oversaw reconstruction funds and brought warring sides together— ex-Taliban fighters, Pashtun tribal leaders, university students, day laborers, and Afghan governors. I acted as a diplomatic bridge between Afghans and our frontline troops.
For his service in Fallujah, Iraq, the U.S. State Department honored Kael Weston with one of its highest civilian medals: the Secretary of State's Award for Heroism.
I still work with Marines, though I've traded the battlefield for a classroom at Marine Corps University where I hold an endowed Chair of Insurgency and Terrorism.
"Weston is. . . a diplomat of great bravery, erudition and heart." – James Traub in the New York Times
I am running to represent the people of Utah, running to represent you, in the United States Senate because the skills I developed in bridging divides abroad are needed more than ever here at home.
"Kael Weston is a man of impeccable character and great integrity." – Lieutenant General (ret), Lawrence Nicholson, United States Marine Corps
We need to focus on what it means to be better neighbors, how we actually care about our neighbors and show it. The division in our country is the biggest risk we face–I've seen this kind of division up close and I know what it costs.
Our campaign logo shows a different way. It's not a handshake. It's reaching out to each other— one blue arm, one red arm. It's taking a risk to say, 'Let's try and come together, let's listen to each other.' It's taking a risk to carry a notebook in a war zone, not a gun. But listening is how we move forward.
Utah is the fastest growing state in the country and that brings both opportunities and challenges.
There are a lot of our people in Utah who have been left behind, people whose issues— the economy, healthcare and covid, climate, and equality— all who get lost when Democrats are not in the discussion.
Politics should be about what we're FOR, not just who and what we're against. The possibility of better government comes from "We the People" but only if we step up and work for it.
If we give in to political apathy, if we forfeit the hope that we can make a difference for each other, that's on us.
I'm a proud Democrat, a native Utahn. My pioneer ancestors arrived here long ago, but whether our families arrived a hundred years or just last week, we're all Utahns with common problems, common goals, common values.
Thanks for listening.
"Kael Weston is an American hero." -Dexter Filkins of The New Yorker