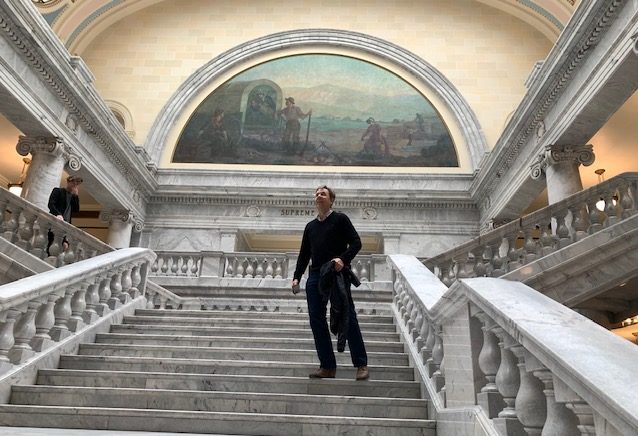 24 Sep

Oct 6, Policy Lunch with Kael Weston: Accountability & Ethics

Kael Weston invites you to participate in a series of weekly lunchtime conversations with him about urgent policy issues, including government accountability and ethics, that require serious leadership and personally impact the people who live and work in Utah's 2nd congressional district.
Government Accountability & Ethics
Tuesday, October 6, 12:30pm
America's system of checks and balances requires public servants of conscience and wisdom, not allegiance to partisanship and division. We must insist on high standards of conduct and judgment in our politicians—or fire them and hire those willing to listen and lead. The magnitude of the public health and economic crises we are facing are a direct result of the lack of accountability and ethics in the current Administration, along with public servants who have forgotten that their job is to put people first — not their party. When elected officials speak the language of partisanship and division, their rhetoric forms the landscape of our public discourse, lowering the bar for all of us. Politicians should always remember that they work for us, for the common good—and that public service is an honor and not a platform for self-absorption, pettiness, or division.
Join Kael for the last in the series of Policy Lunches on Tuesday, October 6th, at 12:30 pm, for a lively, one-hour discussion of the issues.
https://secure.ngpvan.com/fxN9gfk1CkKf0ywbsA57hg2
When you RSVP, you will receive login information and a method for submitting your questions prior to the virtual event.
The complete Policy Lunch schedule:
Wednesday, August 12 – Healthcare/COVID
Wednesday, August 19 – Education
Thursday, September 3 – Public Lands & Environment
Wednesday, September 9 – Foreign Affairs
Wednesday, September 16 – Civil Rights
Wednesday, September 23 – Jobs & the Economy 
Tuesday, October 6 – Accountability & Ethics in Government – THIS WEEK
Each Policy Lunch is recorded and past sessions are available to view on our YouTube channel or on Facebook.